11 May

Cisco Live 2018 Roadshow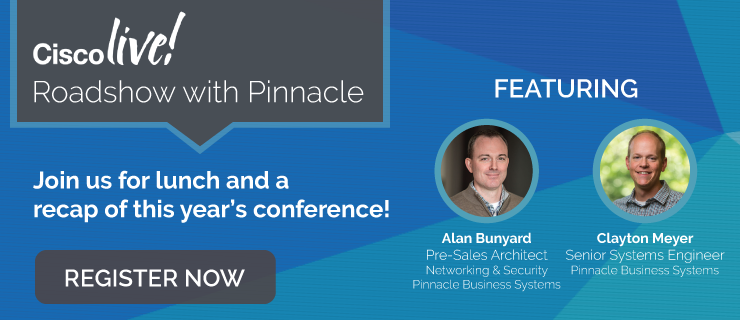 Just days after Cisco Live 2018 we will host a Cisco Live Roadshow in Oklahoma City (on June 20) and Tulsa (on June 21)! Two of our Cisco solution experts, Alan Bunyard and Clayton Meyer, will be sharing key takeaways from Cisco Live 2018 that will affect you and your business and answer any questions you may have.
EVENT DETAILS
Oklahoma City – Cisco Live Roadshow
Date: June 20
Location: Starspace46, 1141 W Sheridan Ave, Oklahoma City, OK 73106
Time: 11 -1 PM (Lunch will be provided) 
Tulsa – Cisco Live Roadshow
Date: June 21
Location: NOAH's Event Venue, 12710 East State Farm Blvd S, Tulsa, OK 74146
Time: 11 – 1 PM (Lunch will be provided!)
Featured Speakers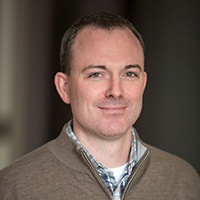 Alan Bunyard
Pre-Sales Architect,  Networking & Security – Pinnacle Business Systems
Alan specializes in Cisco enterprise routing, switching, and security. He is focused on helping business leadership teams and technical personnel translate business objectives into network and security technical solutions. Alan has over 15 years in the IT industry with 10 years of that concentrated on network engineering, security, and design.
Clayton Meyer
Senior Systems Engineer – Pinnacle Business Systems
Clayton specializes in data center, route/switch and firewall solutions for small to large enterprises. Clayton spends his days designing and implementing data center technologies such as all Cisco Nexus platforms, VMware products, Storage Area Networks and Security; Discovery, documentation and diagramming of network topologies; and Server platforms such as Dell PowerEdge and Cisco UCS.