14 Aug

Hall Crawl After Party at VMworld 2018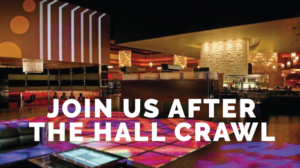 Will you be at VMworld 2018 this year?
Plan to stop by Pinnacle Business Systems' Hall Crawl After Party at the Eyecandy Sound Lounge immediately following VMworld's Hall Crawl. Join us for continued conversation and to meet some of our engineers and solutions architects who focus their work on VMware products and solutions.
Event Details:
Tuesday, August. 28 at 6 PM
Mandalay Bay Resort & Casino
Eyecandy Sound Lounge
Walking Directions:
Head out of the Mandalay Bay Resort and Casinos' South Convention Center past the food court towards the main casino floor, you'll find Eyecandy smack dab in the middle.
Registration is not needed. Contact William.Maker@pbsnow.com if you have any questions.