04 Jun

Xtreme Xperience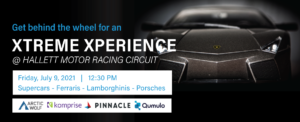 Join Arctic Wolf, Pinnacle, Komprise, and Qumulo because it's YOUR turn to get behind the wheel of a fleet of exotic cars. During this 3.5 hour event, you can choose a driving or riding Xperience — on Hallett's world-class racetrack in supercars like Ferraris, Lamborghinis, and Porsches — take a driving lesson from a professional instructor, enjoy lunch, and get to know Pinnacle's information technology partners Arctic Wolf and Qumulo!
Why Arctic Wolf & Qumulo?
You needed a better file data platform. So Qumulo built one.
After thousands of interviews with enterprise data storage users, Qumulo recognized that legacy scale-out and scale-up solutions were not designed to handle today's data volumes, file types, applications, and workloads. Legacy systems can't provide the visibility, control, and scale that you need to manage your data. Legacy systems won't provide a path to the cloud. You needed a better file data platform. It's here – the Qumulo Core.