26 Jul

Intern Spotlight | Caleb Anderson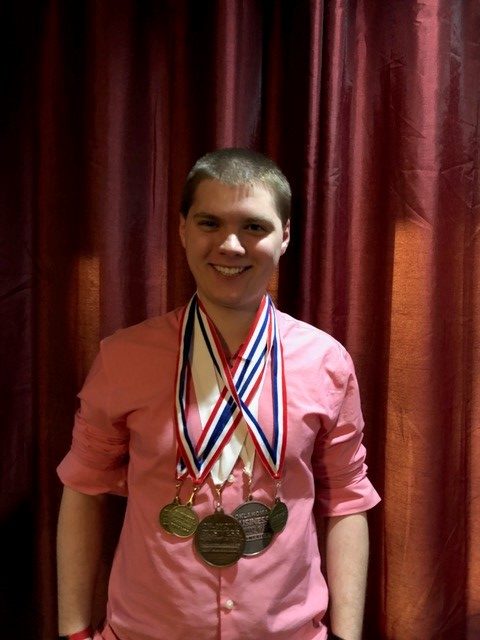 Get to know our summer engineering intern, Caleb Anderson! During his 4 weeks at Pinnacle, Caleb has been hard at work with his VMware training, Cisco training, Logic Monitor training, and Predatar training. He has also been getting familiar with our Edmond lab by setting up and configuring VM hosts, networking, etc. to spin up new VM instances for our managed services customers. Caleb will be taking on more interactive roles with our engineering team, working on internal infrastructure tasks and customer projects in the weeks to come.
Get to know Caleb and what's he's learned so far during his internship.
What does a typical day at Pinnacle look like for you?
A typical day at Pinnacle for me consists of monitoring the IT infrastructure, of customers and Pinnacle, for any errors or potential issues. I analyze the information gathered, looking for any changes or anomalies in system behavior and performance. You may also see me troubleshooting customer tickets and alerts, assisting with infrastructure projects, or learning about the different aspects of the industry such as server administration and storage networking.
What have you learned about the real world of IT engineering that has surprised you?
The most surprising aspect of IT engineering is the scope of the work you are involved in. There are many project types that sometimes require a different approach. Every project will be different than the last in some aspects and you always have to maintain an outside-the-box way of thinking. This forces you outside of your comfort zone and challenges you to constantly improve your knowledge of technology. This type of work can be challenging, but it makes a very rewarding line of work.
What key skills do you feel you have developed during your internship at Pinnacle?
There are many skills that I have developed during my internship at Pinnacle, the most notable being in the world of virtualization. I have gained a much better understanding of virtualization and how powerful a technology it is. I have increased my proficiency in both the configuration and implementation of virtualization technologies.
What do you like to do with your free time?
I enjoy spending my free time in many ways. Hiking, ultimate frisbee, and Ham Radio are among my top choices. I enjoy aircraft watching as well as storm watching. You may also find me researching a multitude of historical topics and events.
Where do you go to school and what are you majoring in?
I am currently a student at Francis Tuttle Technology Center in Oklahoma City, where I am enrolled in the Cyber Security Program. My areas of study include Cisco networking and information security. In addition, I am working towards my Bachelor's in Cyber Security and Information Assurance.
If you could hop on a plane right now, where would you go?
If I could fly anywhere in the world right now, I would choose Iceland. There are so many incredible things to see and do in Iceland, I could easily spend years exploring them all. From exploring ice caves to relaxing in hot springs to watching the Northern Lights, I would never run out of adventures.
If you could have one superpower what would it be?
My one superpower would be the ability to fly. I would spend my time cruising through the mountains and exploring the world, gaining a new perspective. And bypassing all the rush hour traffic is a nice bonus.
What is your favorite TV show?
My favorite TV show is and always will be Psych. I had my reservations when I first started this show, but Psych never fails to deliver a hilariously good time.
Where do you see yourself in the next three years?
This is a tough question to answer. In three years from now, I would like to assume the role of a Network or Systems engineer. Working at Pinnacle has been one of the best times of my life and I would like to continue my journey with them.
Get to know our full-time employees at our Employee Spotlights page and learn how you can join the Pinnacle team!