09 Jul

Pinnacle Day of Service 2019

Volunteer and donation drive to benefit the Regional Food Bank of Oklahoma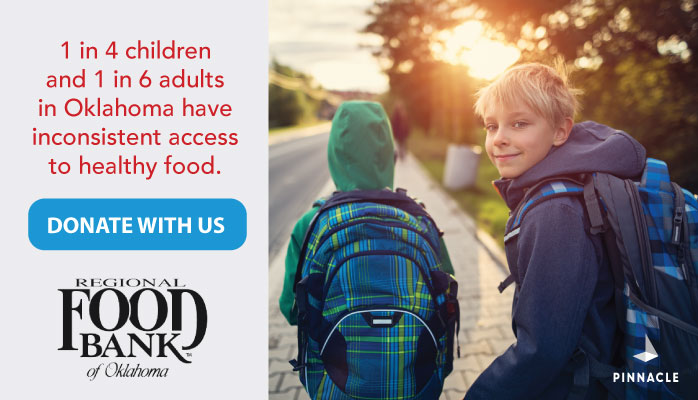 If you haven't seen the recent stats, Oklahoma is the 6th hungriest state in the nation. And one in four children and one in six adults currently living in Oklahoma have inconsistent access to healthy food. Because of these realities, we feel passionate about helping end the hunger crisis not only in our local community but all over Oklahoma.
This year we chose to support the Regional Food Bank of Oklahoma through both volunteer service hours as well as a donation drive. Our teams both in OKC and Tulsa will be spending the day giving back to the communities we live and work in through our Pinnacle Day of Service on August 21 and through the months of August and September driving donations. Read on to learn how you can participate – we encourage our technology partners and customers to join us!
Pinnacle Annual Day of Service
Wednesday, August 21, 2019 (9 am – 12 PM)
Call 866-Pinnacle if you're interested in joining us!

Pinnacle Donation Drive
August 1 – Sept. 30
Donate here!
According to the Regional Food Bank's website, in the fiscal year 2018, they distributed more than 49.7 million pounds of food through a network of nearly 1,300 community-based partner agencies, charitable feeding programs, and schools throughout 53 central and western Oklahoma counties. The Food Bank provides enough food to feed more than 136,000 Oklahomans every week and every $1 donated provides 4 meals to hungry individuals.
We look forward to serving our fellow Oklahomans on our annual Pinnacle Day of Service. Read more about hunger in Oklahoma.